Paradise Taveuni is owned and operated by Allan Gortan and Terri Gortan originally from Australia. Together with their dedicated Team of Fijian staff, they will strive to give you the BEST Vacation you have experienced.
Allan has been a Chef for over 40 years, having worked in many Restaurants in Melbourne, the Whitsunday Islands and their home town on the Gold Coast in Queensland, Australia. Terri's background is Hospitality, having worked in many Resorts in the Whitsunday Islands and all around Australia.
Allan and Terri were enticed to Fiji in 2000 working in a larger Resort in Nadi for over 4 years.  Here they both learned a great deal about the Hospitality and Resort Industry in Fiji and decided to find a place to call their own. They were also able to adopt 2 of their children, Jessica & Thomas. They all moved to Taveuni to find Paradise in 2006.
The Gortan Family sold everything they had in the world to purchase Suzies Plantation, a small hostel for budget travelers located on an oceanfront cliff-edge on the south end of the Garden Island of Fiji – Taveuni. Suzies had been running for 10+ years previously and the Gortan's moved in and started rebuilding the rooms and upgraded the Dive Shop, pool, restaurant and garden areas. Suzies Plantation turned into Paradise when it officially opened in 2008 offering 4 star facilities including PADI Dive Centre and 16 beautifully appointed rooms.
Paradise Taveuni quickly became known as one of the best Fiji Dive Resorts and the Paradise Family's reputation for genuine Fijian hospitality saw the good Trip Adviser reviews and Guests coming in.
In 2016, just about to celebrate 10 years in operation, Tropical Cyclone Winston hit the southern end of Taveuni and in 5 hours the Resort was totally destroyed. With 260 km winds and huge treacherous seas, Paradise Taveuni, along with the southern villages, communities and schools was lost. Allan and Terri choose to rebuild their dream and were surprised, humbled and grateful when friends, family, previous Guests and many local neighbours arrived to help with the re-build. With all the help, in 3 months Paradise re-opened it's doors and was once again one of the top Fiji dive Resorts. With the re-build, the owners were able to make changes to the Resort which not only enhanced it's appearance, but also the attraction to travelers with air conditioning in all rooms, more oceanfront dining options for Guests, Oceanfront Spa and better Dive Centre.
In 2018-19 all 16 Paradise rooms were fully refurbished with the opening of the newest additions to Paradise – 2 new Luxury Oceanfront Bures with Deluxe Tub and Private Diving Vale. With only 2 of these new Luxury Rooms, they are the Resorts most popular rooms to stay in – who doesn't want the very best when they travel to Fiji? – just in time for COVID.
The Resort accommodation was closed throughout COVID, however the owners, with a small Team, changed the direction of the Resort and catered to the Taveuni locals, opening the Paradise Bakery on site, Paradise Cafe in town, rebuilt the Pig and Chicken Farms and planted a Kava and Dalo farm on the 10 aches opposite the Resort. During COVID, Allan and Terri joyfully adopted their 3rd child, Cathleen, who had been living with them for years. The stresses of cyclones, COVID and running a busy business had it's effects on the couple and they divorced shortly after this time. However, as they say 'what doesn't kill you makes you stronger' and Paradise Taveuni fully re-opened with the Fiji borders in December 2021.
Allan and Terri and their Paradise Family have been delighted to see so many Guests in Paradise over the last 2 years, since re-opening and more travelers have booked for 2024 and 25, making the post-COVID years the best ever. Paradise welcomes travelers of all ages and interests with warm Fiji smiles, BIG Bula welcomes, world class scuba diving, gourmet meals and tropically appointed air conditioned rooms.
In March 2024 the new Luxury Plunge Pool Oceanfront Bure will open, offering 3 Luxury Rooms in total. The Paradise owners wish to keep the Resort affordable for scuba divers with upgrade options to Luxury accommodation for those that want this.
If you would like to know more about Paradise Taveuni and the Gortan Family, please don't hesitate to contact us at [email protected]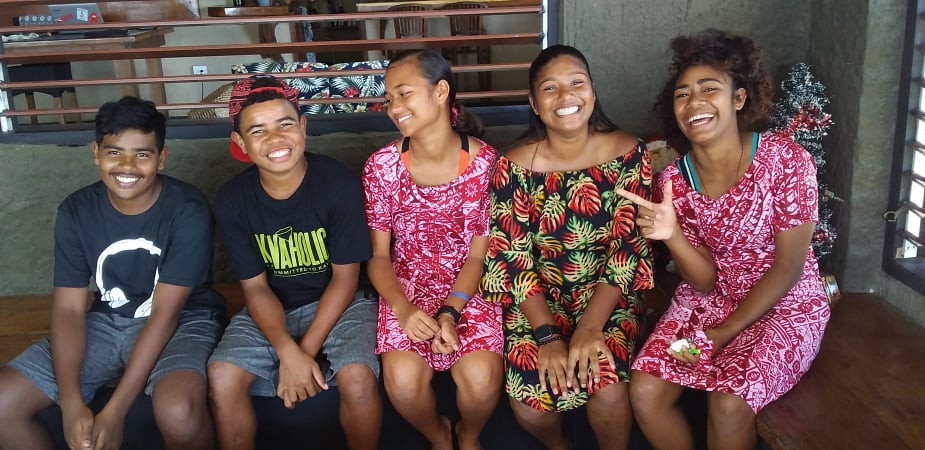 Paradise Taveuni is located in the south west of Taveuni Island, one of the island's most beautiful areas. Set on 5 acres of elevated oceanfront land, Paradise offers impressive sea and sunset views and many strategically placed hammocks and sun lounges from which to enjoy them.
Paradise offers 16 air conditioned accommodation choices, including 1 soon to be opened Luxury Plunge Pool Oceanfront Bure, 2 new Luxury Oceanfront Bures, 2 Oceanfront Bures with Deluxe Tub, 2 Oceanview Bures, 3 Oceanview Family Bures with 2 bedrooms and 6 Oceanfront Vales.
Paradise and the wonderful staff offer a unique look into Fijian culture and the magical mystical islands of Fiji. Great pride is taken in their work and Resort and the Paradise Team enjoy greeting and meeting their Guests from all over the world. Jessica now attends University to study Vet Science and Thomas and Cathleen attend the nearby secondary school. The Gortan teens and enjoy the company of their local Fijian friends most weekends and love to meet the Resort's younger Guests. The Resort dogs, Brownie, Bella and Betty will meet you on arrival with the rest of the Paradise Team.
Much of the Taveuni coastline is rugged and set against some of Fiji's highest peaks. Des Voeux Peak reaches up 1195m and the cloud shrouded Mt Uluiqalau, at 1241m, is country's second highest summit, offering some of the best views in Fiji and making Taveuni a great hiking destination. Covered in coconut trees, Taveuni is known for being the Garden Island of Fiji due to the abundance of its flora and the amount of local produced that is exported – mainly Dalo (Taro) and Kava (Yonqona). Approximately 60 percent of the island is Tropical Rainforest and the volcanic soil makes Taveuni one of Fiji's most fertile areas – hence the name 'The Garden Island of Fiji". While the northeast of Taveuni is fringed by reefs, the southwest has deep water close to shore.  Taveuni, free from poisonous snakes and spiders, is a bird watchers dream as well.
With the world famous 20 mile reef system, the Rainbow Reef,  just a short boat ride away, Paradise offers some of  the best diving in the world. Fiji is known as "The Soft Coral Capital of the World" and here you will experience some of the most memorable dives of your life. Explore astounding soft corals and diverse marine life with the Paradise Dive Team. With over 40 sites on offer, you can dive 'The Great White Wall' – noted as one of the Top 10 Dives in the World, Orgasm, The Zoo, Fish Factory, Cabbage Patch and many more dive sites that you will recall for the rest of your life.