Taveuni is 'The Soft Coral Capital of the World' and Paradise is in the heart of it.  Paradise Dive is owned and operated by Paradise Taveuni and is on site. Our PADI Team offer daily dive trips to Rainbow Reef as well a large selection of PADI  Dive Courses. Learn to Dive in Paradise or upgrade your current Certification with us.
​
Paradise Taveuni offers diving on the one of the 'Top 10 Dive Sites in the World' The Great White Wall, on the legendary Rainbow Reef.
Ask us for the White Wall Dive dates.
FREE Shore Dives.
Paradise is the only Resort on Taveuni offering FREE Shore Diving.
Every day, divers from all over the world choose Paradise Taveuni to experience the extraordinary formations of hard and soft corals and an abundance of fish life including: Anemone fish, Maori Wrasse, Lionfish, Reef Sharks, Rays, Turtles and much, much more. With a variety of deep wall drop off's and shallow drift dives, there is something here for every diver.
Whether you are just learning, or have been a Scuba Diver for your whole life, Paradise will offer you plenty of opportunities to explore the amazing underwater life of Fiji.
Paradise offers Nitrox
Paradise offers the Enriched Air Diver Specialty Course and it's easy to see why Nitrox is so incredibly popular – no decompression time means more underwater time, especially on repetitive scuba dives. You can typically stay down longer and get back into the water sooner. No wonder we are seeing may Paradise divers enjoying the benefits of Nitrox diving.

Paradise is Home of The Taveuni Explorer.
Our custom built 15mt / 45ft cruiser, is made of aluminium and features galley, bathroom, freshwater shower, sleeping quarters and on-board Bar & lounge. Taveuni Explorer is powered by twin 350 Mercury Verado outboard motors and has a ladder for ease of exit and entry. Taveuni Explorer carters to 26 Divers and crew.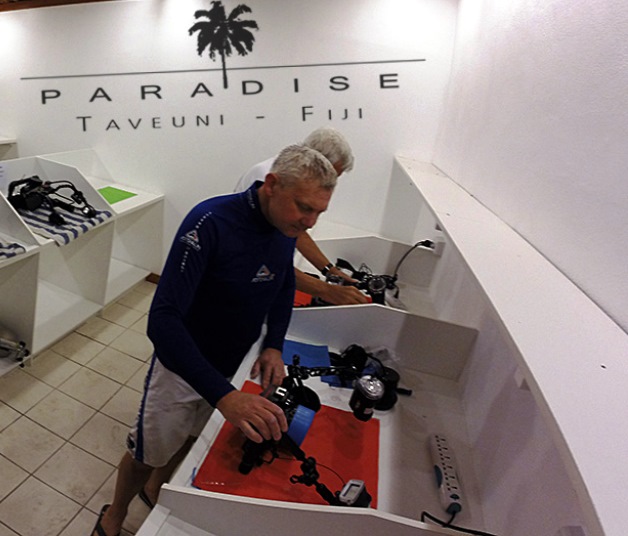 Air Conditioned Camera Room
Paradise Dive Centre features an air conditioned Camera Room for our dedicated underwater photographers. Perfect for our photographers to rinse, clean and re-charge their camera gear. Our Divers LOVE this complimentary service
Scuba diving in Fiji for all the family
In Fiji, snorkeling is something everyone must try! Snorkeling offers some of the best views of marine life. Highly skilled personnel guide you and show you precisely how to snorkel. You won't believe the beauty you will see as you enjoy your cheap Fiji vacation.
The bigger Fiji islands are home to sandy beaches, rugged mountains, and breathtaking waterfalls. Nestled in the remote areas, visitors will enjoy these beautiful sites. Two of the most popular islands to visit and to view waterfalls are Taveuni and Viti Levu.
When you book a cheap Fiji vacation, you are staying within you budget and making sure that your family enjoys everything this awesome country offers!
For the anglers in the group, Fiji claims one of the best ecosystems that makes a perfect breeding ground for fish. If you choose one of the package holidays to Fiji, the guys (and girls too) will want to take advantage of this unique opportunity.
Scuba diving in Fiji's waters reveals some of the most breathtaking coral reefs in the world. The diver may also observe some of the most unique fish species. While novice or expert divers explore underwater Fiji the scuba experts stay on hand to insure a great experience.
Book your cheap Fiji vacation today to take advantage of these splendid views and tranquil atmosphere.
Are you ready for a thrill? Get your adrenaline rush during your cheap Fiji vacation. Underwater adventures, snorkeling, and scuba diving Fiji will appeal to the adventurous ones in your group. These fun sports make the trip unforgettable and exhilarating.
No doubt about it, vacations in Fiji are an excellent value. Whether you are looking for a couple's getaway or a family vacation, our travel experts will book a trip for you that is memorable and will fit in the budget. Book your trip now for some fun, sun, and adventure.
Divers from all over the world come to Tavenui Island in Fiji to enjoy the unique experience of diving Fiji. The island waters teem with unique marine life. The gorgeous hard and soft coral formations and abundant fish make Tavenui one of the Top 10 Dive Sites in the World. Anyone can understand Fiji's popularity because of its beauty above and below the water
The topography of the land in Tavenui features deep drop offs and dives that are home to anemones, lionfish, reef sharks, sting rays, and turtles. Divers can explore a vast underwater life when scuba diving in Fiji. Whether you have been diving for a long time or if you have just gotten certified, diving in Fiji offers something to everyone.
A resort on Taveuni aptly named "Paradise" offers free shore training. Therefore, if diving has always been a secret dream, here is your chance to make that a reality. Trainers deliver expert training to prepare divers to enjoy an underwater paradise. The Enriched Air Diver Specialty Course utilizes Nitrox.
Divers using Nitrox waste no time on decompression. Furthermore, Nitrox allows divers to stay underwater longer and dive more frequently.
The Tavenuni Explorer, a custom-built, fully equipped cruiser, transports the divers. The cruiser features a galley, bathroom, shower, sleeping quarters, and even a lounge and bar. Powered by twin 350 motors, this luxury cruiser has ladders for ease entry and exit. With up to 26 passengers and crew, all are ready for an outing filled with fun and adventure while diving Fiji.
The cruiser includes an air-conditioned camera room. Dedicated underwater photographers relax in the cool while cleaning and recharging their photography gear. The camera room is one of the most popular services provided to guests at no extra charge.
Lessons for scuba diving in Fiji
If you have ever wanted to learn to dive, right here in beautiful Fiji is the perfect place. Our safe PADI Dive Operators teach you so you can earn your PADI scuba certification in paradise. Whatever your reason for learning—observe the beautiful underwater world, discover new adventures, or just for the fun of it—our professionals teach you all you need to know. Right here in beautiful Fiji is where it all begins.
Diving courses include the fundamentals of scuba diving complete with equipment and techniques. Then, you will experience five confined dives in our pool with an oceanfront, horizon view. Once you have certified, you will have the freedom to dive alone or with a group of friends.
Using our E-learning system, you can begin your adventure—scuba diving in Fiji. Even before you get to the islands, you go online and take the course. This allows you to finish the classroom portion of the diving course at your own pace in the convenience of your home. You can work on it anytime, anywhere. Once you begin, you can take up to one year to complete the course.
When you arrive in Fiji, your adventure begins. Professional divers teach you the fundamentals of Fiji scuba diving. When you are certified and ready, you can experience the thrill of the underwater world.