THE BEST SCUBA DIVING FIJI EXPERIENCE
Taveuni, a popular scuba diving site in Fiji, is also known as 'The Soft Coral Capital of the World' and Paradise is in the heart of it. Paradise Dive is owned and operated by Paradise Taveuni and is located on site within the Resort grounds. Paradise owner, Allan Gortan, is one of our Resort Dive Instructors and he and Fijian Dive Instructor, Christine Riley, lead our Paradise PADI Dive Team. Our PADI Team offers daily dive trips to Rainbow Reef and local areas nearby. We offer a selection of PADI Dive Courses and teach Fiji scuba dive lessons. Learn basic to advanced scuba diving in Paradise, Taveuni or upgrade your current Certification with us.
The Rainbow Reef is a 32km reef in the Somosomo Strait between the islands of Taveuni and Vanua Levu and only a 20-30 minute boat trip from Paradise. It is one of the most famous dive sites in the South Pacific.
Paradise Taveuni offers diving on the one of the 'Top 10 Dive Sites in the World' The Great White Wall, on the legendary Rainbow Reef. It is named because of the white coral inhabiting the area at depths between 15 and 65 metres (49 and 213 ft).
WHY CHOOSE PARADISE TAVEUNI AS YOUR NEXT FIJI DIVE VACATION DESTINATION?
We have the best Dive Boats in Fiji (some of our Guests say the best they have been on). Taveuni Explorer takes 26 divers and crew, galley, bathroom, shower. Lady Paradise takes 12 divers and crew. With a total of 38 divers, Paradise is the ideal boutique dive group destination. If you are looking to experience the best scuba diving in Fiji, the get in touch with our team ASAP.
Complimentary air conditioned Camera Room for our dedicated underwater photographers to rinse, clean, recharge their cameras.
Owner / operator Allan Gortan is our DI and is on board with all Dive Groups. He leads our great Team of dedicated local divers who help us operate the Paradise Dive Centre.
Luxury Diving for all divers – our Dive Team takes care of all of Guests dive gear. No lugging gear to the boat – our Dive Team does this for you.
Paradise offers Nitrox tanks and courses.
We choose our Dive Sites based on our Guests requests
Mantas and Pilot Whales are often seen on the boat trip to and from the reef. We stop so you can get in and swim with these wild, natural creatures.
Humpback Whale season is June – September each year and we encounter these beautiful mammals as they migrate with their new calves from the Dive boat and from the oceanfront of Paradise.
Paradise is the only Resort on Taveuni offering FREE Shore Diving in Fiji when you take a Dive Package. Experience an abundance of fish life including: Anemone fish, Maori Wrasse, Lionfish, Reef Sharks, Rays, Turtles, Octopus, Garden Eels, Blue Ribbon Eels, Ghost Pipe Fish, Moray Eels and much, much more. With a variety of deep wall drop offs and shallow drift dives, there is something here for every diver. Whether you are just learning, or have been a Scuba Diver for your whole life, Paradise will offer you many opportunities to explore the amazing underwater life of Fiji.
Paradise offers Nitrox
Paradise offers the Enriched Air Diver Specialty Course and it's easy to see why Nitrox is so incredibly popular – no decompression time means more underwater time, especially on repetitive scuba dives. You can typically stay down longer and get back into the water sooner. No wonder we are seeing many Paradise divers enjoying the benefits of Nitrox diving.
Paradise is Home of The Taveuni Explorer
Our custom built 15mt / 45ft cruiser, is made of aluminum and features galley, bathroom, freshwater shower, sleeping quarters and on-board Bar & lounge. Taveuni Explorer is powered
by twin 350 Mercury Verado outboard motors and has a ladder for ease of exit and entry.
Taveuni Explorer caters to 26 Divers and crew.
The soft coral capital of the world's signature dive offers an astounding wall of pure white soft coral. This Fiji diving site is definitely the world famous Rainbow Reef's top draw. A coral encrusted swim – through leads onto the wall from the reef top. A dazzling myriad of colour and life inhabits the reef top. Manta rays glide past with ethereal grace. On exiting the water from this scuba diving site an awed silence lasts for a while before an excited chatter that lasts for days starts among divers in Fiji. Not to be missed! We recommend Advanced Divers only on this site, due to depth, current and narrow swim-through.
AIR CONDITIONED CAMERA ROOM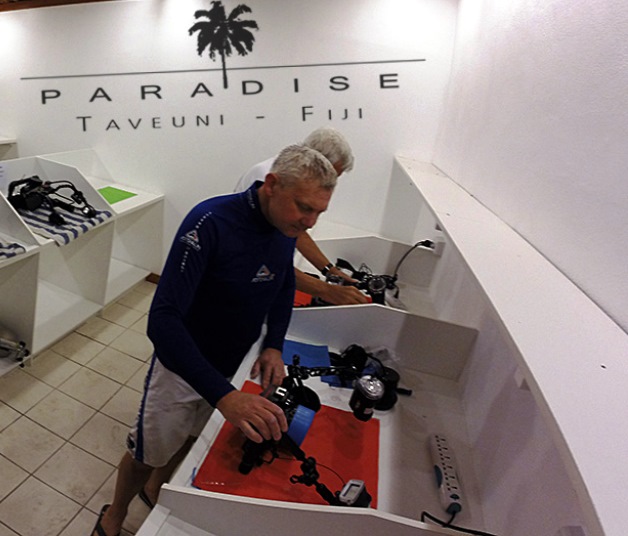 Air Conditioned Camera Room
Paradise Dive Centre features an air conditioned Camera Room for our dedicated underwater photographers. Perfect for our photographers to rinse, clean and re-charge their camera gear. Our Divers LOVE this complimentary service.