Paradise Taveuni is the only resort on the island offering diving on pristine Vuna Reef and legendary Rainbow Reef. With over 40 dive sites to offer, you won't visit the same site twice, unless you want to.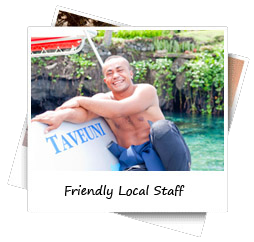 Every day, divers from all over the world choose Paradise Taveuni to experience the extraordinary formations of hard and soft corals and an abundance of fish life including: Anemone fish, Maori Wrasse, Lionfish, Reef Sharks, Rays, Turtles and much, much more. With a variety of deep wall drop off's and shallow drift dives; there is something here for every diver.
Whether you are just learning, or have been diving your whole life, Paradise will offer you plenty of opportunities to explore the amazing underwater life of Fiji.
Rainbow Reef Dive Sites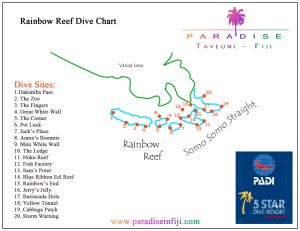 Vuna Reef Dive Sites
Please look over our dive sites and dive courses  to get an idea of what we offer, and have a look at our videos and diving blog!