An Unforgettable Paradise Taveuni Fiji Wedding Experience
One's wedding day is definitely a moment that has to be remembered and we are 100% confident that a Fiji wedding is something that will give you the unforgettable memories you dream about. Any wedding in Fiji is special and you can rest assured that everything will be perfect when you opt for a Paradise In Fiji wedding package since our experience basically speaks for itself.
Join thousands of couples that tied their lives in wonderful Fiji wedding ceremonies and that had the time of their lives whilst on their Fiji holidays in Taveuni.
Why A Paradise In Fiji Wedding?
Experience – We know what it takes to offer truly quality and affordable Fiji wedding packages.
Diversity – if you want something else than what is included in our Fiji wedding packages, Contact Us so that we can arrange everything as you want to. After all, it is your Wedding Way.
We Take Care Of Everything – You do not have to worry about organizing your wedding in Fiji. We do everything for you from taking care of paperwork to organizing romantic couple activities you will love

. 

Affordability – You do not have to spend a fortune when you choose Paradise In Fiji. worry about organizing your wedding in Fiji. We do everything for you from taking care of paperwork to organizing romantic couple activities you will love.
Free Extras – Based on the option that you choose, different free extras are included.
Professionalism – our Team know what you need and want
Examples Of Free Services From Paradise In Fiji:
Free Sunset Weddings – This includes celebrations, legal registration, a really romantic ceremony and a wedding coordinator service. FREE with a minimum 7 night Honeymoon Package in an Oceanfront Bure
Free Vow Renewal – our Fiji wedding package are not just for the couples that want to get married. Those that want to renew their vows will also love what we offer. FREE with a minimum 7 night stay in an Oceanfront Bure
Many others are offered…ask us!
Before You Contact Us, Make Sure You Can Procure The Following!
Any Wedding in Fiji needs to be legit so the following documents are necessary:
Passports for the bride and groom
English birth certificates for the bride and groom
Whenever applicable: previous spouse death certificate or divorce certificates
Plan Your Dream Fiji Wedding With Us!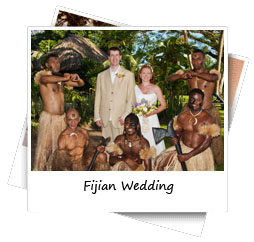 While our Fiji wedding packages are meant to fulfill the needs of most in love couples that want to have a paradise wedding, there are situations in which you may want something special. Paradise In Fiji organizes both small and large weddings. With the larger weddings we warmly recommend that you get in touch so that we can discuss everything that is included since there are different extras that are offered like free accommodation of the bride and groom, together with the free services mentioned above.
Go All Out! Plan Your Fiji Honeymoon At The Same Time!
Besides our specialization in organizing your Fiji wedding, we also offer the possibility of staying after the wedding for a wonderful Fiji honeymoon that is filled with anything you want from romantic moments to pure adrenaline. Just check out our Taveuni Honeymoon page and see what you can add to make your Wedding getaway even more memorable.
Paradise In Fiji takes care of everything for you. Call us by using the number on the left or the form on the Contact Page and you will get to see why so many people recommend us.