Imagine spending your Honeymoon with your loved one on the island of Taveuni.  Remote and secluded Paradise offers a Fiji Honeymoon that is magical and memorable.  We will ensure your special moments together are unforgettable.  Paradise is affordable luxury!
Add our Honeymoon extras to any Romantic Getaway to Paradise: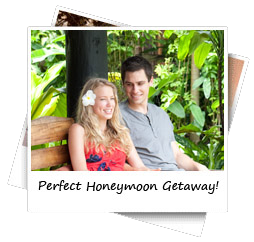 Deserted Beach Drop off – take off on our fast boat to a white sandy beach perfect for a romantic picnic for 2. Enjoy snorkeling, sunbathing, swimming and beachcombing. Our speed boat will return to pick you up after 4-6 hours of secluded romance.
Honeymoon Spa Package – romantic and rejuvenating couple spa treatments featuring a 1 hour couple massage, a refreshing couple Body Wrap and a 1 hour couple facial. Receive a Pure Fiji Gift.
You don't have to be on your Honeymoon to enjoy our Services…
All Lovers are welcome in Paradise!
'Andrew and I couldn't ask for a better Honeymoon. The staff went out of their way to make this week memorable. We can't wait to return for a second, third, and fourth trip to Paradise.' Andrew & Marie St Claire, California, USA.