Bula and Welcome to Paradise!
Paradise Taveuni suffered a Category 5 cyclone in February 2016 and has since in has been remodeled and all accommodation and other facilities are BRAND NEW.
We are proud to be the NEWEST RESORT ON TAVEUNI!
Please note, the images on this website of the accommodation and main bure feature steeped thatched roofs. Our new accommodation and main bure now have different roofs, however all other features are as they seem in the images you see. We are excitedly waiting on our new professional photographers to capture our new roofs and new Resort. New images of the roofs will be uploaded as soon as possible.
The images of the grounds and gardens you see on this website are not as the grounds are now. Our grounds and gardens are in the process of being reestablished and they are growing fast.
Please don't hesitate to contact us in Paradise for more details about the remodelling or any changes in Paradise.
You can also follow us on Facebook to see recent images of our Resort and Team.
A Fiji honeymoon in Taveuni is something that you will always remember. Paradise In Fiji is specialized in offering memories that are truly memorable and magical. We do not just say that. We offer that by catering to all your needs and by giving you access to luxury at affordable prices. The Fiji honeymoon packages that we offer are tailored for different budgets and all couples that visited Taveuni will tell you that this is a stunning island with so many possibilities available.
Why Choose A Fiji Honeymoon Package In Taveuni?
The views are stunning and many romantic opportunities are available.
Couples can discover white sandy beaches while staying in a resort that is truly intimate, a personal hideaway in paradise.
There is basically no crime on the island, no solicitors, no corruption. Only trustworthy people.
The ocean is always lukewarm, crystal clear and virtually perfect for diving, swimming and snorkeling.
Every couple that enjoyed a honeymoon in Fiji loved the friendly people living here.
Inexpensive souvenirs, drinks and food. You can even opt for a Fiji honeymoon all inclusive package that would include everything.
Secluded island resorts that are intimate and where all Guests are treated like royalty.
What Do We Offer?
Our range of services is really impressive. That is why we managed to receive so many awards along the years. We offer different Fiji honeymoon packages and we warmly recommend that you consider our Fiji honeymoon all inclusive packages since that would leave you virtually worry free. You have everything included in the package according to your wishes. You just tell us what you want and we offer it.
The best thing that you can do is contact us by phone or email. Tell us what you are looking for and we will offer you a customized Fiji honeymoon package that can includes anything from complete seclusion and intimacy to a really wild and adventure filled all inclusive honeymoon.
What Do Our Fiji Honeymoon Packages Always Include?
Wonderful accommodations in an oceanfront bure or a romantic tropical bure.
Friendly and discrete service from highly trained staff
All meals
Romantic dinners in your preferred locations every single night
Airport transfer
Complimentary internet in the Main Bure
Many extras, some free of charge
Out of the extras that you can take advantage of, the most popular ones are: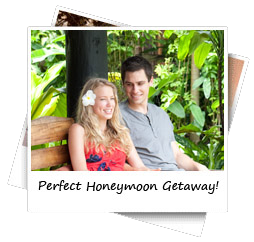 Deserted Beach Drop Off – we take you out to a completely deserted island for the most romantic picnic you will have as a couple. You will enjoy sunbathing, beachcombing, swimming and snorkeling. The getaway will offer you 4 hours alone, doing whatever you want on a beach where nobody will bother you. You can easily imagine how romantic that can be (extra cost)
Special Fiji Honeymoon Spa Package – spa treatments that are rejuvenating, romantic and especially designed for couples. This includes your choice of couple body wraps, 1 hour couple facials and couple massages (extra cost)
Tell Us What You Want
We have three main Fiji honeymoon packages that you can choose from.  In addition, if you want a custom package, contact us in Paradise or at the phone number on the left. Tell us what you want to experience while on your Fiji Honeymoon and we will make it happen!