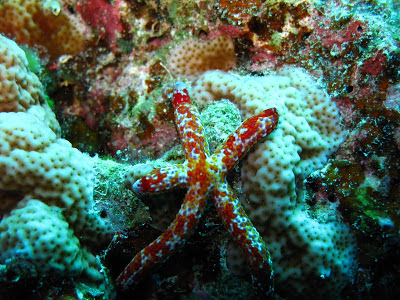 Starfish, sea lilies, feather stars, sea urchins and other colourfully named creatures belong to the group known as echinoderms (meaning spiny skinned).
Starfish or sea stars are star-shaped echinoderms belonging to the class Asteroidea.
Taveuni is a popular destination for Tourists and travelers world over.
Allow yourself to discover not only the beautiful and perfectly distributed features on dry land but look beyond the surface and see what Mother nature has to offer you. Here in Paradise so many things will leave a beautiful smile on your face even if not by a touch but just by glancing at it and one of them is the starfish.
Stunning Starfish are some of the most beautiful things that you can find when you experience snorkeling or scuba diving in Paradise. They come in various colours and appearance but you will love all that you come across.
You can discover many the beautiful sea creatures when you next stay in Paradise.