Paradise now supports 7 new Oceanfront Air Conditioned Vale Lomani's, including an outdoor shower and Jacuzzi. The Vales offer uninterrupted ocean views of the beautiful Somosomo Straits and surrounding Fiji islands.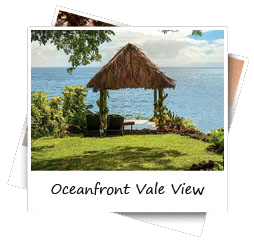 Similar in design as the resort Bures, the Vale Lomanis (Fijian for beautiful room) are perfect for Singles or Couples alike, equipped with a large bedroom and generous king bed, mini bar, refrigerator, tea or coffee making facilities, wardrobe, and a comfortable lounge area.
The modern bathroom is tropically designed with a inside shower, bath products, and hair dryer. The outdoor shower and Jacuzzi in the private lush garden is a Fiji essential. All Oceanfront Vales are air conditioned and fan cooled.
Paradise Taveuni is the perfect destination for Honeymooners, families, small groups, and individual travelers searching for a lost culture in a mystical land. Experience Paradise soon, the Real Fiji.
Contact us in Paradise to find out more.
Oceanfront Vale Photos: